Ob-Gyn Office Website
Spectrum Womens Healthcare
Brief
An informational website for an obstetrics-gynecology practice relocating to a new office location and adding a new partner.

While there are a lot of pain points especially with billing and insurance our conversations revealed that addressing these global healthcare issues were beyond the practice's resources.

We focused on creating the authoritative source of information about the practice for pre-visit research ie SEO and helping the patient's prepare for their visits with:
Online booking through each doctor's preferred portal.
‍Maps with driving and parking information

Downloadable PDF patient forms.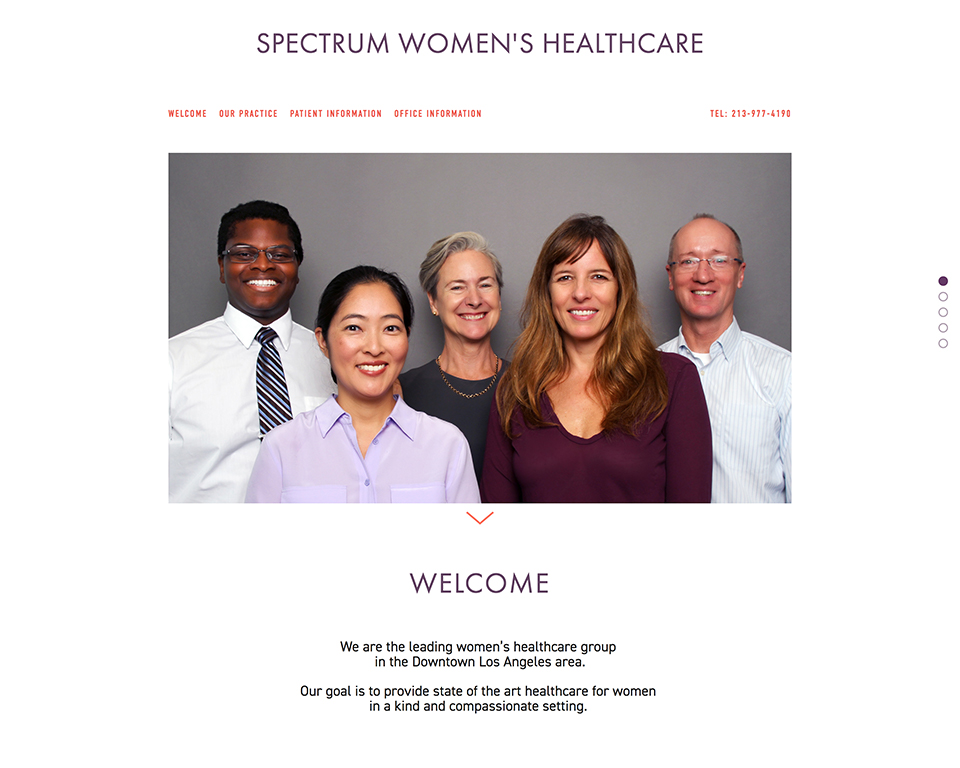 [Fig01] Home Page
Timing
The client approached me about a year before we actually started. Dr Yamaguchi was a partner in a 4 person obstetrics-gynecology practice in downtown Los Angeles. They were planning to move to a new office location inside Good Samaritan, a mayor hospital. They were also hiring an additional partner. A new website would highlight these changes and provide basic information about the practice.
I felt it was too early to start. Discussing her plans for the design of the website and their office,  I suggested that there were more constraints around their office design than a website. It would be better to take cues from their aesthetic decisions for the office once it was done.
We reopened the conversation a year later after they had settled in to their new office and the new partner started.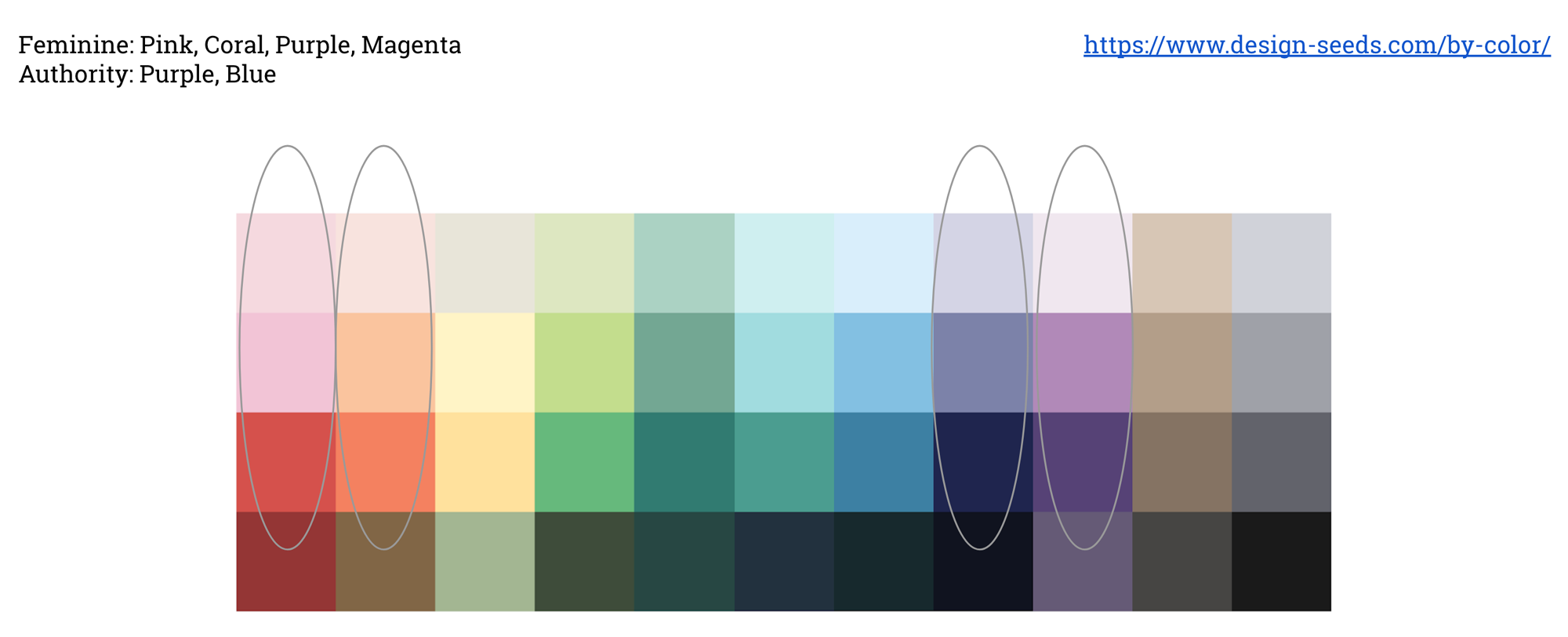 [Fig 02] Color Presentation for Client
Visual Design
She wanted a site that reflected the partners' personalities and the new office which had colorful chairs, modern artwork and fresh flowers daily. As an Ob-Gyn practice it needed to be feminine without being girly.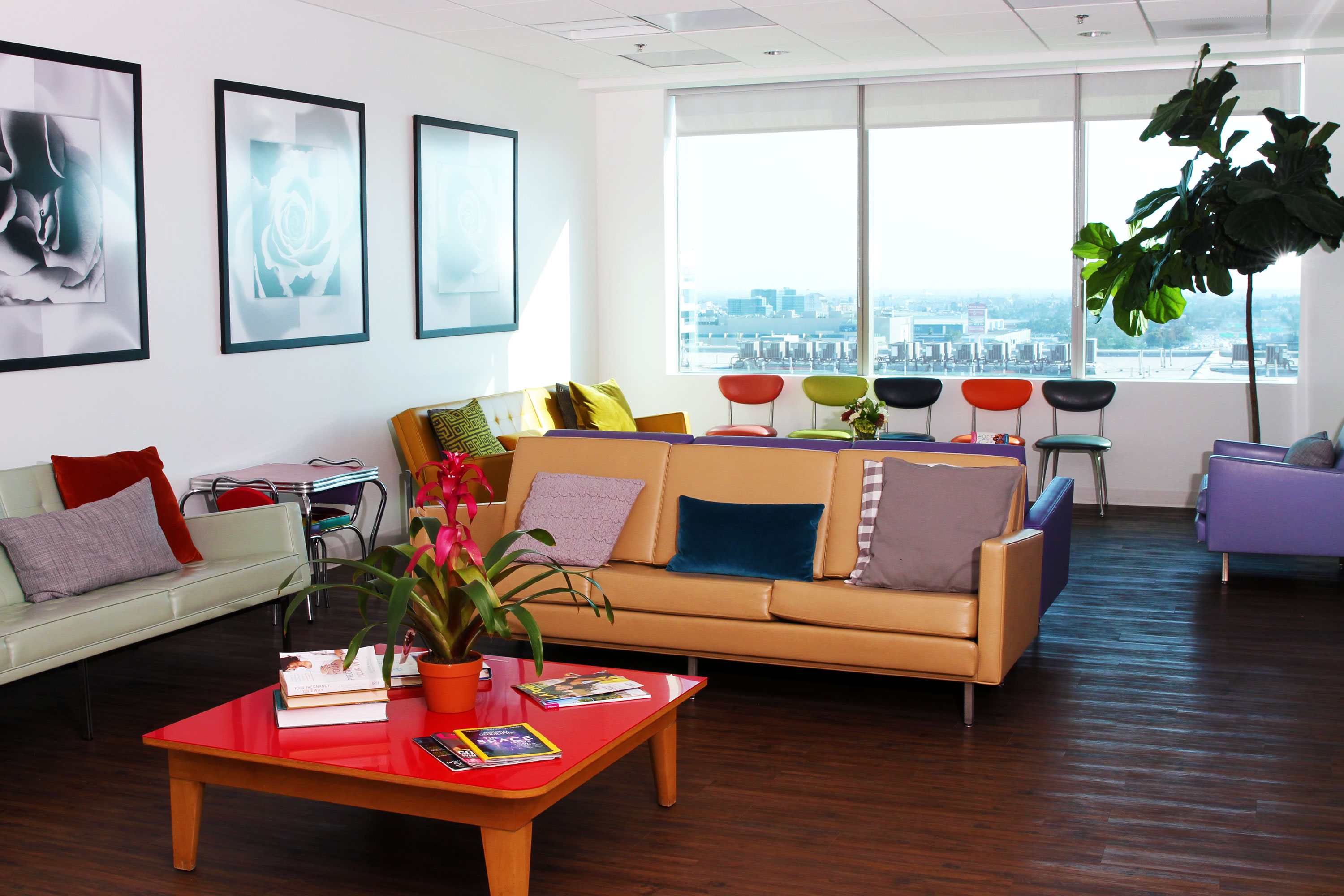 [Fig03] Client Photo of Office Reception Area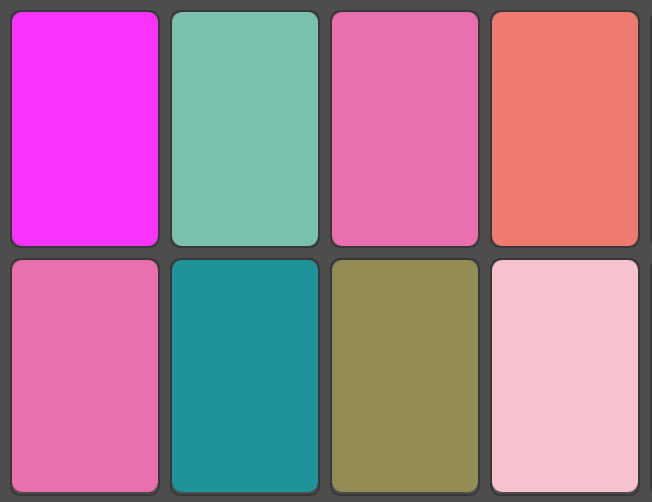 [Fig 04] Final Color Palette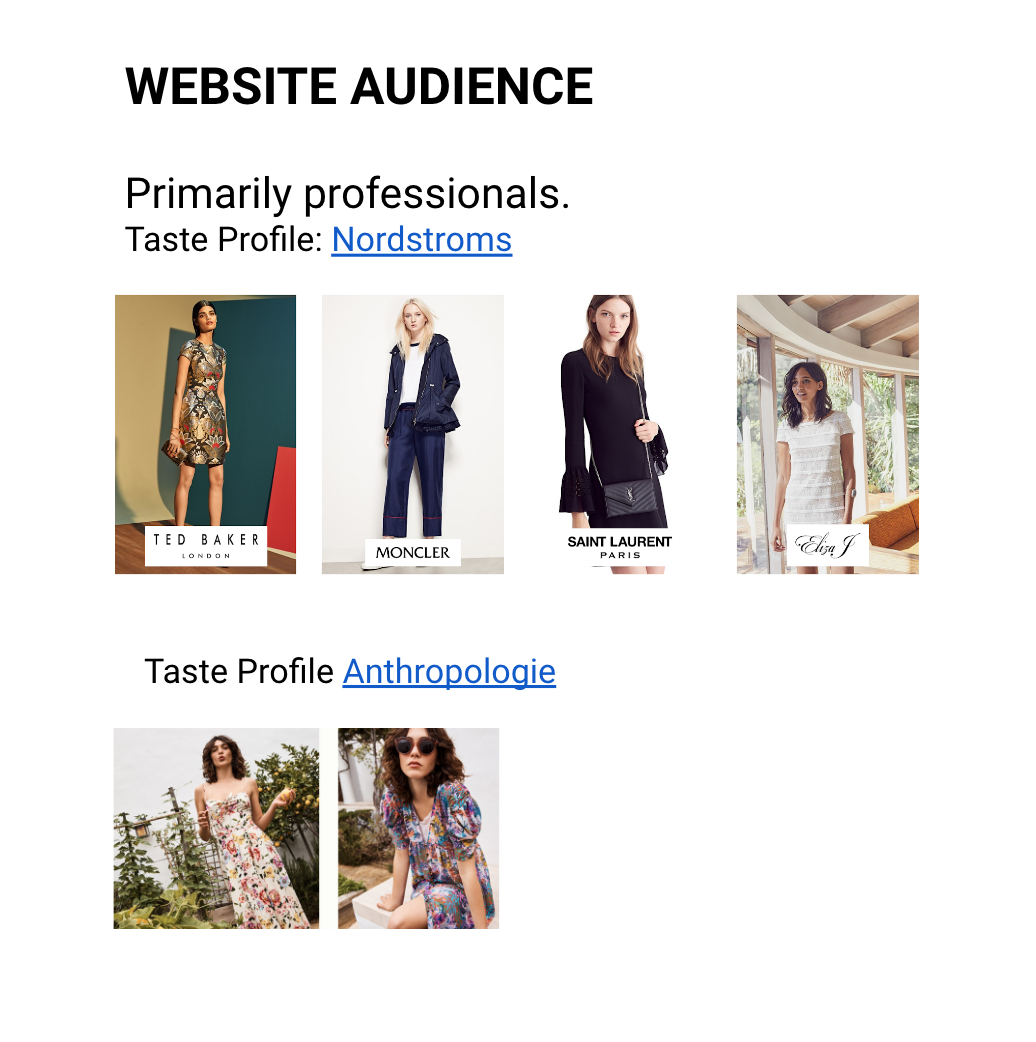 [Fig 05] Taste Profiles of the Office Clientale
We discussed the clientele in terms of Los Angeles neighborhoods and taste in fashion.

While important for establishing a common visual language between us, it also became clear that the partners were not going to mirror their clientele's look.

Ultimately the subdued coral color of their new chairs informed the websites color palette. The website logo matched an Art Deco style font used on their business card.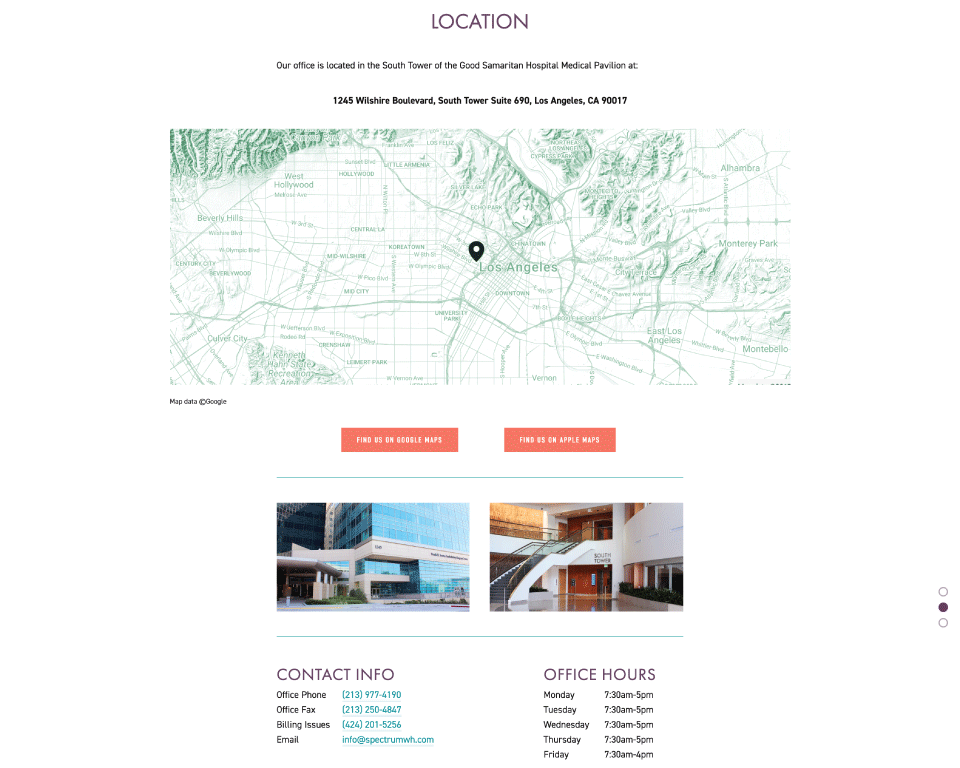 [Fig06] Location Information
Content Choices
The partners existing online presence was uneven. One partner had no presence at all . One other had very established practice in another part of town. The remainder feel in between those two extremes. We chose to add enough biographical information so that there was a good baseline for each physician.
Besides biographical content, we looked at 2 issues that come up a lot when visiting a doctor for the first time in Los Angeles:  paperwork & parking.
Patient forms were made available for download on the site. It was decided not to integrate Electronic Medical Records at this point as they were evaluating their current provider. Online appointment scheduling was setup on an individual basis for each doctor.
Parking is difficult in downtown and the location can be confused with an identically named street in Santa Monica. To fix that, we registered the office with both Google and Apple maps and provided clear map directions to the closest parking as well.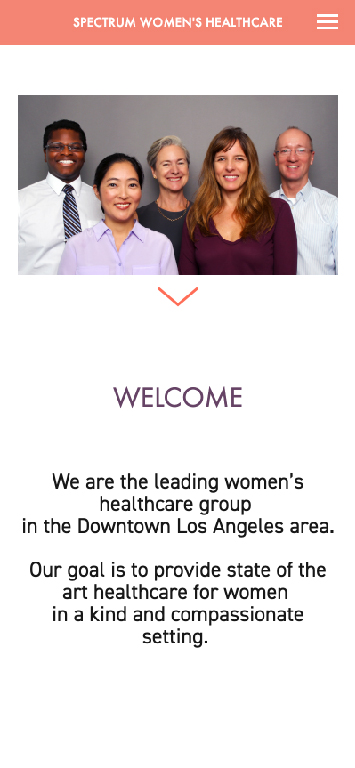 [Fig07] Mobile Home Page
[Fig08] Mobile Home  Office Images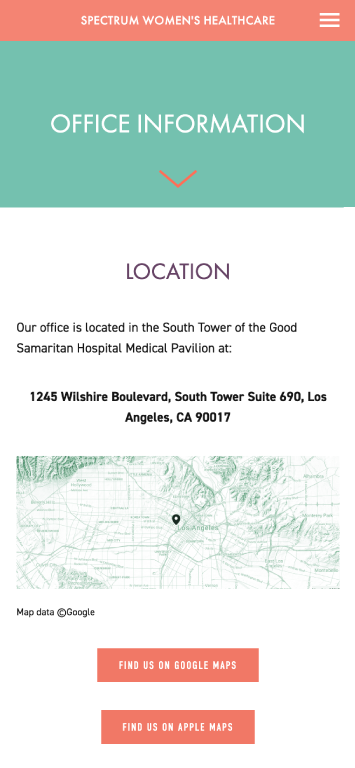 [Fig09] Mobile Location
The layout is fully responsive with content resized and reordered to fit a single column for mobile users. The office location is registered with both Google and Apple maps so one click will open up directions in their respective apps on a visitor's phones.
Lessons Learned
Dealing with a multi-partner client, I was fortunate to work with a single point person who could make decisions, and manage the delivery of content that I needed to move forward. It made for good progress.

It might sound like a cliche, but every business is different. SaaS products offer canned processes that are assumed to be common across different businesses. Reality is more complicated and the expectation that everything will conform to app driven convenience is worrying. Right now small business have to adapt to the tools, or forgo some functionality, rather than having a wide selection of options to pick and choose from.