Lanai Road Elementary School
Brief
I volunteered to be the webmaster at my daughter's public elementary school. The website was the public face of the school providing school information to the parents and wider neighborhood community. With roughly 550 students, parents directly contributed $600K+ annually to fund positions and curriculum enhancements not covered by the state. The PTA raised funds by directly soliciting parents at the beginning of the year, several events and with local business sponsorships.

The website was broken and there were issues with parent communications fragmented over paper handouts, phone calls and emails. My solutions were a responsive website on consumer friendly platform with a streamlined communications pipeline to encourage:

Wider community involvement
Easy volunteer signups

Measurement of usage & issues
The strategy was to build good will by quickly addressing cosmetic issues and then work on incremental functional updates as I learned more about how the site was actually being used.

https://www.lanairoad.net/
Tools
Squarespace
Google Apps
Mailchimp
Role
Volunteer
Webmaster
Web Designer
Tech Issues
I inherited a Wordpress setup that had issues with:
Slow load times
Visibly missing assets pulled from 2 different installations,
Out of date plugins,
Security issues with data breaches
A design that needed to be pinched and zoomed on mobile.
Stale out of date content
PDF based content that was not searchable
People Issues
There was also frustration all round with notifications to the parents.
The volunteer leadership felt that their communications by robocall, emails, and newsletters with flyers sent home with the children were being routinely ignored.
Parents felt that they were bombarded with irrelevant or redundant information and still were not receiving adequate notice about deadlines and events.
Baby Stepping Change
I proceeded with caution. There was no need to make enemies of someone personally attached to the existing site design or content.

To understand the context, I approached 3 key stakeholders:
The school principal
The president of the PTA (parent teachers association, ie volunteers who run support services, activities for parents and kids, and work with the administration to decide which programs benefit the school)
The president of the FOLB (booster committee who focus on fundraising for school programs and positions not covered by the State).  
Fortunately no-one was overly invested in a particular aesthetic or felt the need to design by committee. Everyone wanted something that worked and put forward the best image of our school.

I created a screenshot of a redesigned home-page that the FOLB president in turn presented to the board. It was approved.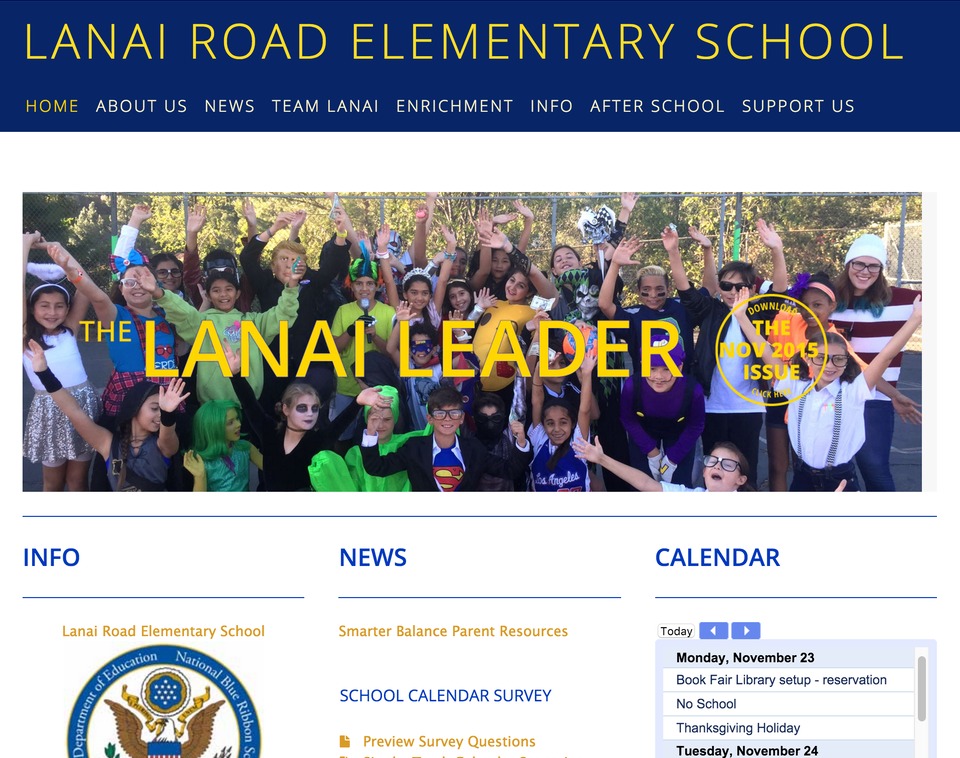 I thought the best approach was a straight port to a responsive template on Squarespace that kept the information architecture and content untouched until it could be assessed for relevance and accuracy.

The design was streamlined to put the content front and center as a community bulletin board.

PDF based content was archived on a Google Drive accessed through the website. This would work for documents like meeting minutes and forms.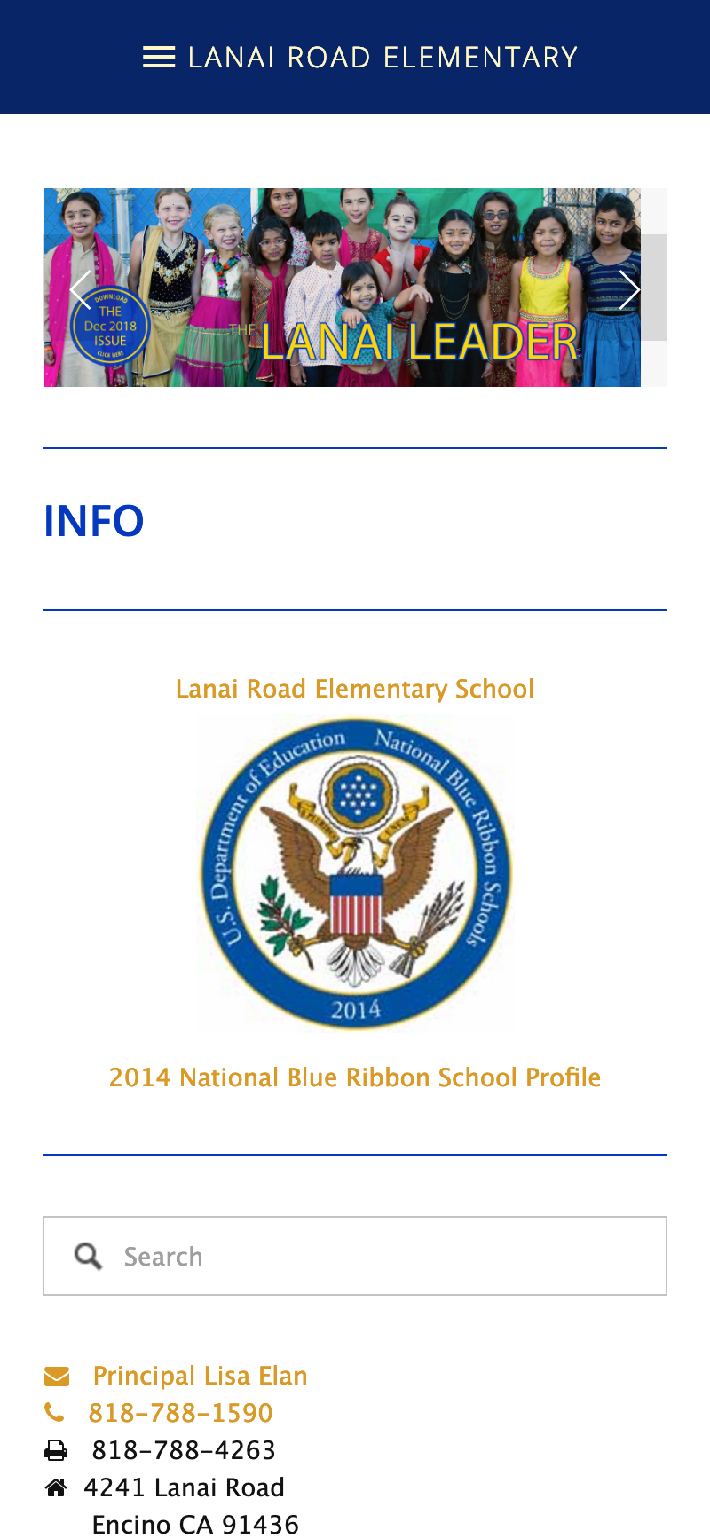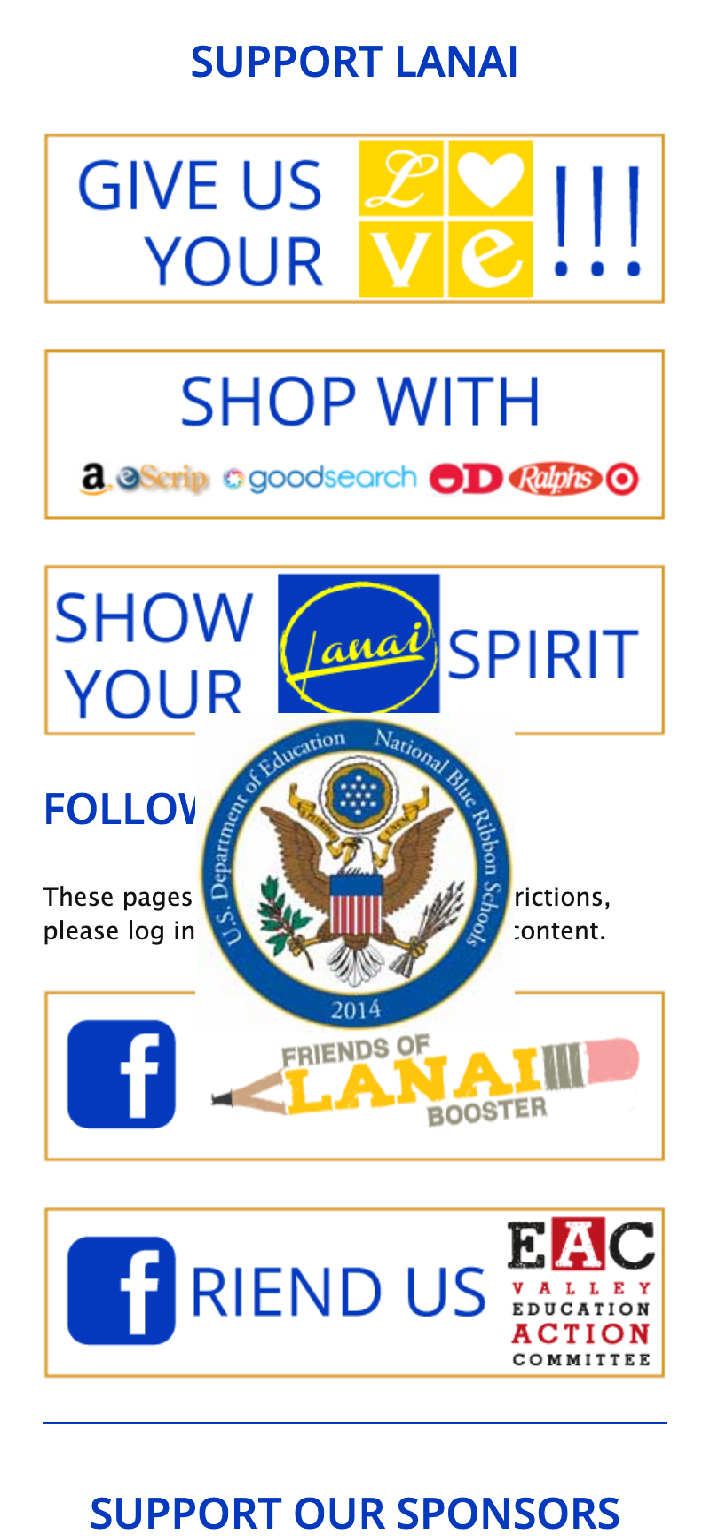 Improving Communications
My first idea to eliminate paper handouts wasn't possible as the school had to accommodate people without home internet access. That might seem odd but the LAUSD is the nation's second largest school board and it has  a really wide socio-economic strata.
However, I was able to improve a few aspects of the newsletter:
Streamline delivery - I moved the newsletter from Constant Contact to Mailchimp so it could be automatically sent out whenever a blog post was published on the website.
Searchable archive - The published posts also served as an archive of events that was indexed by google.

Data Cleanup - I got involved in the yearly transfer of new parents contacts from the school's system to Mailchimp so I could correct issues early.
Self-correction - I built a form on the home page so parents could update their emails after the initial transfer without human intervention.
‍
Measuring Usage & Change
I was motivated to measure website usage. There was a lot of hearsay about functionality and the stakeholders were sensitive to squeaky wheels diverting their attention from more pressing issues. Mailchimp allowed some tracking of emails opens. I implemented Google Analytics to do page level tracking initially, then updated with event level tracking to get more accurate readings of visitor behavior.
Most parents were not exploring the site in depth. They accessed URL's directly from an email or from a link from the home page.
Many people did not understand the nested folders in desktop and hamburger menus in mobile navigation
A new search function and a footer index helped keep some visitors on site longer.
Lessons Learned
Self-Maintenance Issues
I had planned to be pretty hands-off after the site launched. The existing content was created by several volunteers and I had hoped the Squarespace-Google Drive technology would make it easy for the content owners to make their own updates.

To that end I presented the interface to 12 core volunteers and setup up sandboxed test pages for the workshop participants. The school's family center director got more hands on training as needed.

It turned out the tech was not as friendly I had assumed. Feeling efficient required constant practice or experience with similar software. Most volunteers did not have time to commit to learning new software.

The family center director managed the weekly newsletter updates as blog posts. Over time I normalized my involvement to 5 hours a month on other content updates.

Eventually I was able to recruit 3 technically oriented parents as webmasters. I setup a shared mailing alias and it appears to be working as a way to keep the site content up to date.
Ensuring quality content
Besides manpower, another issue with keeping content fresh was ensuring that there's a steady stream of good incoming content. It was more involved than I planned.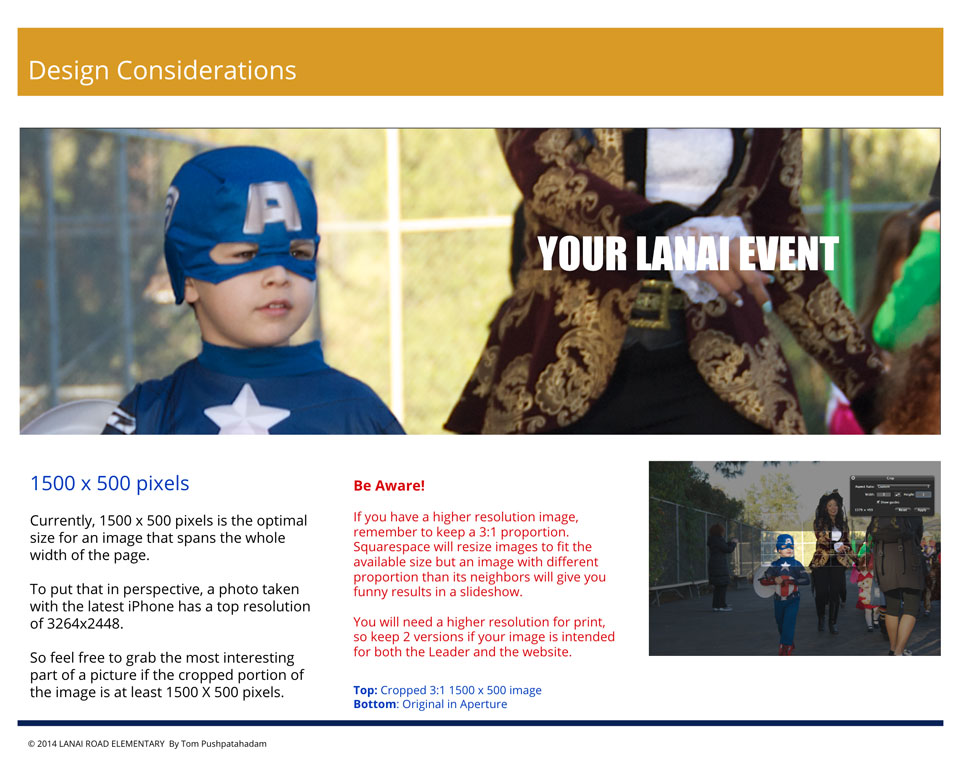 Sharing photographs of students without a waiver was not permitted so you had to depend on parents sending pictures of their own kids.

With non-professionals getting adequate enough image resolution and compositions that would work with 1:3 landscape ratio was a crapshoot.

The home page had a prominent Squarespace gallery block where I hoped to have pictures of our kids in rotation. I had some luck with photo guidelines that could be downloaded.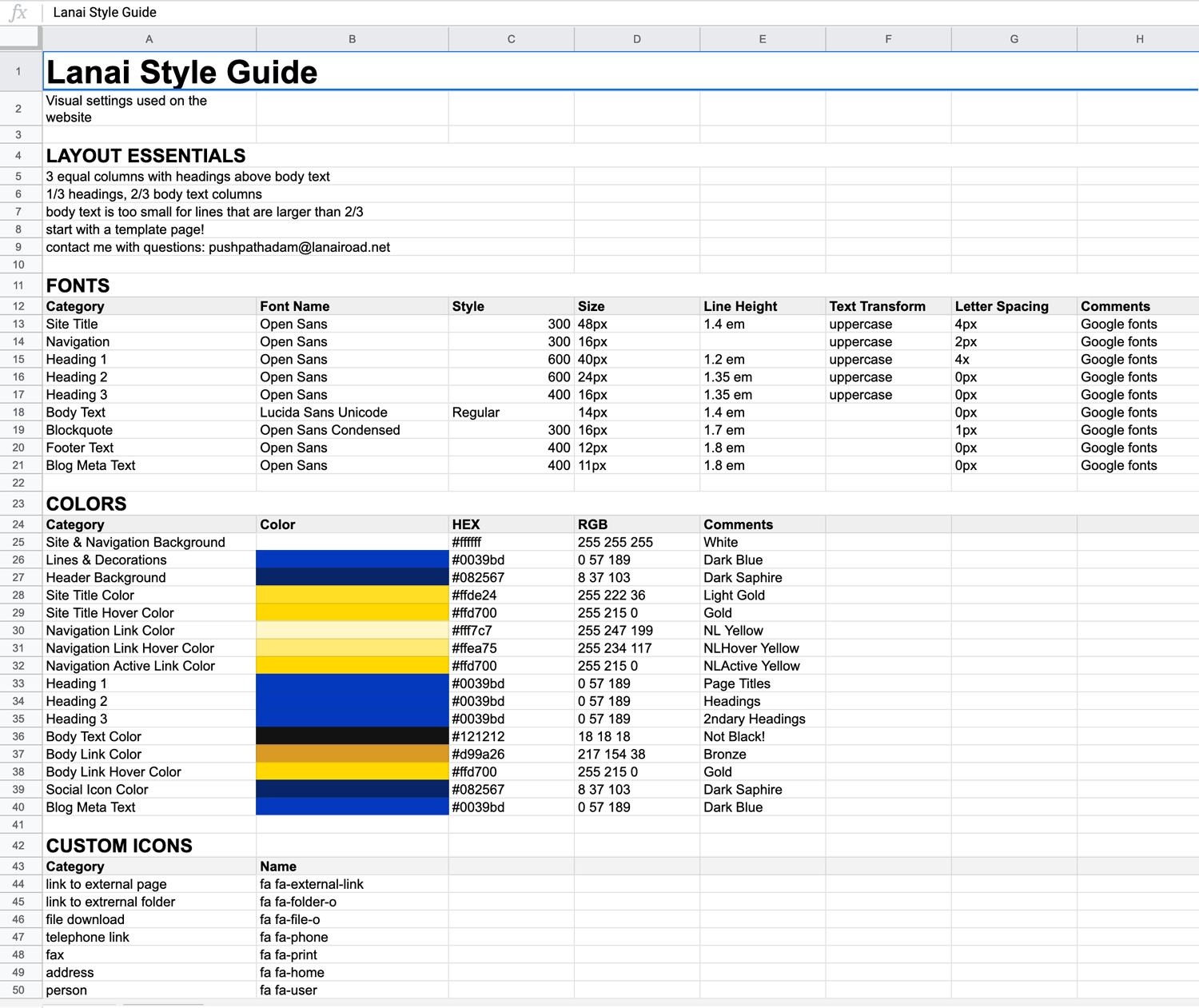 Another issue with Event notices presented an interesting challenge. Most people worked with the mental model of flyers posted on a wall or fridge. Separating images, text for a responsive layout was a big ask to someone without any design experience. I ended up creating content from the submitted flyers.

Fortunately there establishing standards was simplified because there was another volunteer with a design background. The major fundraising event graphics went through her so it was easy to work out requirements.

At one point I setup a style guide in a google spreadsheet with the fonts, weights and colors so  anything on the site could be replicated in Photoshop or Illustrator.
Most parents don't want spend spare time with a computer
There's a social aspect to volunteering at a school that's lacking with digital work. Most parents are volunteering so they can spend some time with their children in the school environment. A tight knit group of core volunteers works behind the scenes on site during working hours and/or after-school. The social aspect of working together on these tasks seems to be rewarding to them.
Unfortunately the digital jobs are more cut and dried tasks with minimal communication and scope for socializing. It's in the nature of some of these tasks that if they could be automated or outsourced they will be. I'm at a loss for how these tasks would be integrated into a school context without committing more resources to training and better software.
Progress Isn't Perfection
The school has grown more comfortable with digital tools & processes and the stakeholders are finding tools that work for them.

In 2018 an app based system was implemented to broadcast announcements and create signups with class room level granularity. That gave the school 4 channels for parent outreach: robocalls, blog posts, emails and app notifications. A few paper copies of the newsletter were kept as an on-demand standby.

The website works without heroic efforts from any one person.

A newcomer will find evidence of a healthy school community that values a good education for their children. It documents strong volunteer involvement, extracurricular activities, and a track record of academic achievement. There's current information about community events,  enrollment, and school tours.