Case Study - Non-Profit Arts Group Website
Kids & Art Foundation
Brief
Kids & Art grew from a volunteer website project for a friend into an ongoing engagement where I handle the non-profit's design & technology issues. I integrated SaaS products as needed and the modified the design over time as the website evolved into a hub for outreach emails, collecting donations, volunteer management, workshop signups, e-commerce, PPC campaigns, and soliciting grants.

I supported the foundation's expansion from monthly destination workshops to weekly hospital workshops at 2 locations with online volunteer management. In the 2018 1200 families participated and 1400 volunteer hours were donated.

The foundation's revenue grew from $33K in 2014 to $157K in 2018 totalling $497K with ~7% directly from online donations.

https://www.kidsandart.org
Tools
Squarespace
Google Apps
Mailchimp
Google Analytics
Google Adwords
Signup Genius
Eventbrite
Role
Web Designer
Web Analyst
PPC Marketer
FE Developer
[Fig01] Promotional Banners
Purvi Shah was working as an art director before her youngest son Amaey was diagnosed with leukemia. The art projects that she created for him to pass time while undergoing treatment became the foundation for workshops she organizes around the San Francisco Bay Area for pediatric cancer patients and their siblings.

Kids &Art's first site was on a website platform that was due to be shut down in late 2014. Purvi asked me for help  and I volunteered to move the content over to Squarespace. We would use her existing design as a starting point.
[Fig02] 2014 New Homepage on Squarespace
Evolving Needs
‍
The site's purpose & my role evolved since the first iteration in 2014.
Audience
Kids and Arts provides art workshops for pediatric cancer patients and their siblings. The website is targeted to the children's parents who sign them up for activities, volunteers, and donors. The demographics skew heavily towards caretakers and relatives, females aged 25-50 living in the San Francisco Bay Area.
Outreach
The initial plan was to use the site's blog to raise awareness, solicit funds & volunteers, and promote destination workshops around the San Francisco Bay Area.
PPC & Analytics
A few months in, I setup Google Analytics and a Google Ads campaigns under a Non-Profit grant. We had lots of goals and we needed to get a perspective that was detached from on the ground feedback. We operate in the Bay Area and we get a lot of well meaning advice to try new tools. Data on the actual page traffic gave us a way to prioritize what changes may make the most impact on a significant amount of visitors.
E-Commerce
A year in, I also set up Squarespace E-commerce to sell stationary with K&A themes.
Design Changes
As we held more workshops, we received feedback that we should showcase the kids' artwork more.

By 2016 we had enough visual content to redesign the page layouts with that in mind. Every standard page would showcase artwork and workshop participants in a 4 image gallery.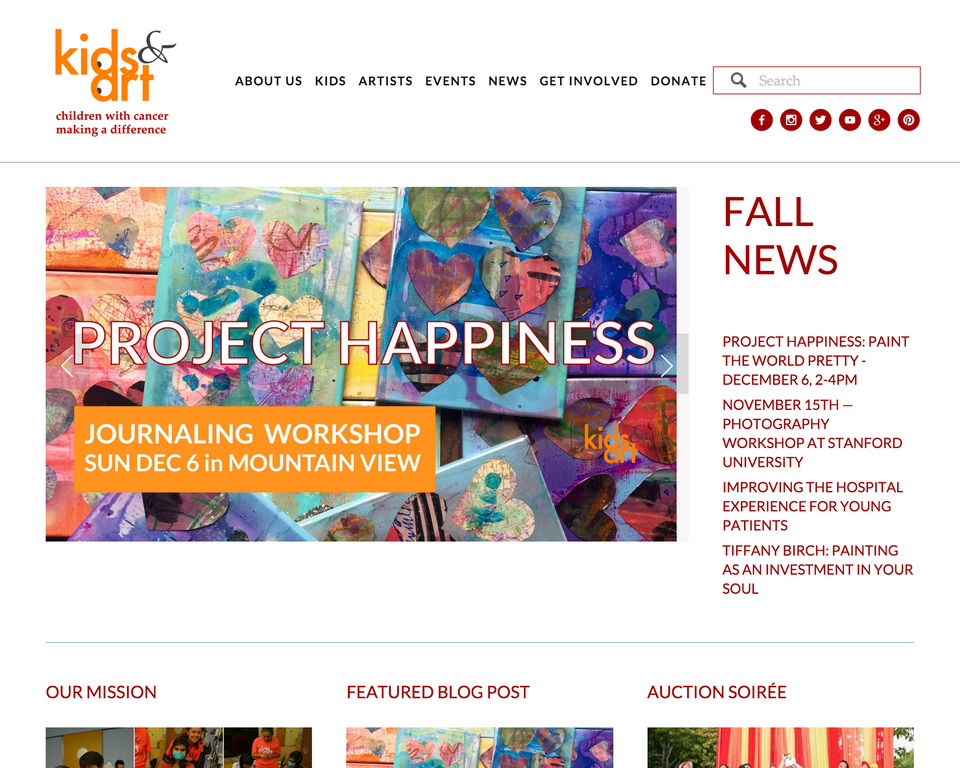 [Fig03] 2016 Updated Home Page
[Fig04] 2016 Standard Page
Trial & Error
Slow Rollout

The work evolved from a volunteer basis to time on a fixed retainer. The budget was limited so we prioritized important content updates with some slack built in for urgent unforeseen issues.

Unused time was banked forward for big design or tech updates. Since pages were built individually this forced us to roll out changes slowly page by page.
Fast Rollbacks
Some changes did not work as planned and we rolled back quickly to archived older setups.

I looked at leveraging the Squarespace CMS' structured data collections for products & images. I thought it would make managing content updates easier with cards filtered through summary blocks to consistently present a rich variety of content with minimal design input.

While collections worked well for products, it wasn't a good fit for team member bio's and I rolled back to building team pages as one-offs. The backend was too cumbersome with no ability to sort a collection of images alphabetically.
CMS Issues
To be useful structured data collections need both a strong front-end tools for presentation and back-end tools for content management.
SEO, Adwords PPC & Landing Pages
We had a Google AdWords grant for non-profits until 2019 and used it to drive traffic with custom landing pages for volunteers and donations. It brought a few new volunteer artists but there wasn't much of traffic that converted to donations or sales. We tried to enlist outside help without success.

[Fig05] Custom Landing Page
[Fig06] Custom Landing Page
[Fig07] Custom Landing Page
My impression is that PPC is a poor fit for us. Pediatric cancer is not something most people think about until they have a personal connection to the issue. If a search query is a digital signal for this situation, it's a fine judgement call to discern the appropriate way to reach out. Our data did not offer great answers.
Accommodating Growth
By 2016, K&A expanded to regular workshops at 2 Bay Area Hospitals in addition to regular monthly destination workshops. With 150+ volunteers, they needed software solutions for managing them.  Kids & Art relies on several free or low-cost products in concert knowing full well that it's difficult for most people to jump between products.

[Fig 08] Eventbrite Signup for Destination Workshops
[Fig 09] Signup Genius Page for Hospital Volunteers
K&A currently relies on Eventbright and Signup Genius to organize its workshops. They are simple and low cost but its an ordeal to extract and collect data from multiple sources.
Efficiency vs Privacy
Being based near Silicon Valley , all in-one solutions are constantly being pitched to us and evaluated. We want to manage donors, volunteers, workshop participants, run fundraisers and sell products. One platform would speed up on-boarding internally. In theory the pooled data could leverage the connections between participants in the different areas.
‍
There are several providers in the non-profit space that address this pain point but so far no-one matches our needs out of the box.  A major block has been that we collect sensitive medical information about minors participants. That information has to be secured with strong access control. Currently a tool with those features and several finely graded access accounts is not available at a price that makes sense for us.
Additionally we found that as a larger part of our funds come from individuals online fees are significant. So cheques are still preferred over online donations despite the inconvenience and added time to process and manage the donations.